I was recently reminded that if want the history of disabled friendly online activism remembered I actually gotta recap it. So this is about the blog's 2015′s #GiveItBack campaign and how cool @glaad was about it, and how they continue to really show the fuck up lol 
The earliest post I can find is from 2003, and it shows that debating if we (as aces) wanted to add an A letter to the English speaking alphabet soup that is was and is the acronym has been a thing for at least then if not before. There's always been thoughtless reasons and thoughtful reasons why A could be ally or an endless amount of things.
But our story really starts in 2015, with GLAAD's #GotYourBack campaign. GLAAD as a nonprofit is huge, and really a media watchdogs for the community at large. They will praise good representation of LGBTQ characters and call out harmful stereotypes or even the lack of diversity itself.
#GotYourBack was an ally focused events for people should visibility show up for the community. As you can see in this screencap below it is focus was #GotYourBack but also [A] if for Ally.

And for much of the non-AVEN ace community that praising felt like non-queer allies were being centered at the cost of our communities.This was on the heels of years of feeling excluded from the community at large. While that wasn't GLAAD's intent, it was a sign that the asexual community was not on their radar. Awareness and fighting invisibility was key issue to the community at that time, despite where your personal ace group was.
#GiveItBack was the hashtag coined by FuckYeahAsexual to ask GLAAD to change their phrasing so we could be included. So that allyship was not praised at a cost to us. When I started it was A for Asexual and very quickly it was debated that even we could do better than that. Why not share the A with any queer identity that inherently faced a negative? Within the first day of reaching out to GLAAD, A then stood for Asexual, Aromantic, and Agender. While aces and aros didn't feel included at all, tons of agender people also didn't feel seen in 'big tent' organizations, and we a-specs said 'we get that, you can be heard with us.'
GLAAD agreed within 3 days. Which is really such an impressive feat for a group that large. (AVEN disagreed. And made its first public statement in 3 months a belittling the work of non-AVEN activism, and was a message that stayed of AVEN's front page for at least another year. Despite their founder praising FuckYeahAsexual's lead activism.)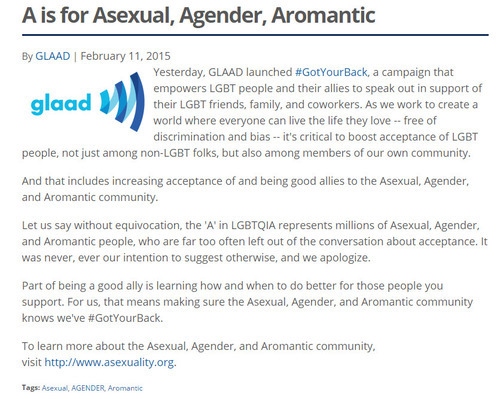 "Acceptance of LGBT people, not just among non-LGBT folks, but also members of our own community. And this includes increasing acceptance of and being good allies to the Asexual, Agender, and Aromantic community.
"Let us say without equivocation, the 'A' in LGBTQIA represents millions of Asexual, Agender, and Aromantic people who are far too often left out of the conversation about acceptance.
"Part of being a good ally is learning how and when to do better for those people you support. For us, that means making sure the Asexual, Agender, and Aromantic community knows we're #GotYourBack."
This is the best apology I've even seen in my life. May ever see. It not only says sorry, it says it is their duty to constantly do better based on community sentiment. It also absolutely follows the meaning of their #GotYourBack campaign.
Not only in that, but in next few days did GLAAD further change the campaigns branding to no longer center A is for Ally.

This is absolutely how you do it. The respect communities cheered for this really first huge endorsement of "Yeah, you're us, we see you. #GotYourBack"
And the following year in 2016, #GiveItBack was used against to call out American Apparel's ally focused rainbow capitalism. Further raising awareness for asexuals, aromantics and agender people. It trended as an article on Buzzfeed, Yahoo News wrote about what the A was supposed to mean and so on.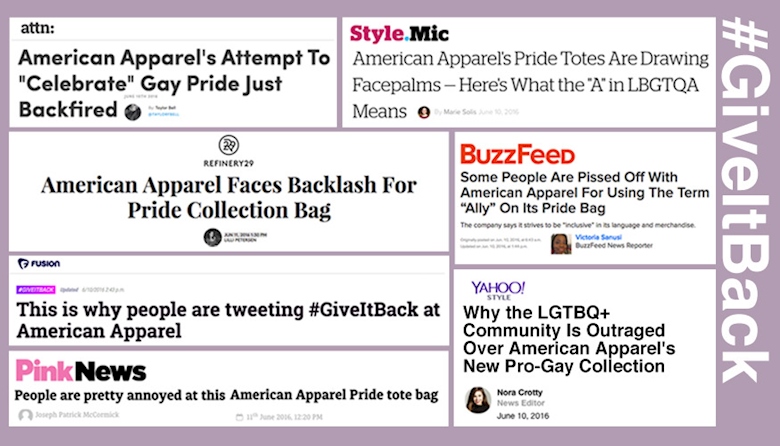 And American's Apparel also used both hashtags from the GLAAD precedent in their apology. Not as good as GLAAD's declaration of acceptance but again it's a clothing company.
And not only did GLAAD help set the standard by listening to use "tumblr aces" it also continued to include more queer diversity in other projects they did. Like in these 2016 #SpiritDay posts.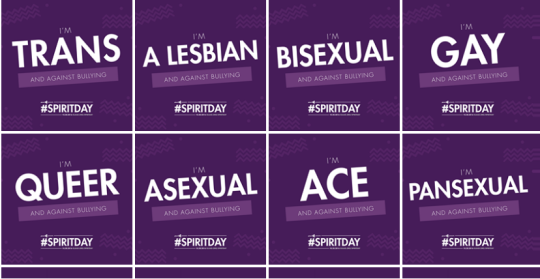 And in 2020, I learned that because of the 2015's #GiveItBack campaign, GLAAD reached out to ace communities to include such a-spec heavy arcs in Bojack Horseman from 2016-2020.
Like GLAAD originally said, your voice matters. Use it. You just might accidentally sent a new standard for how people treat you, and your whole community, with respect.